Professional Morristown Pipe Repair and Installation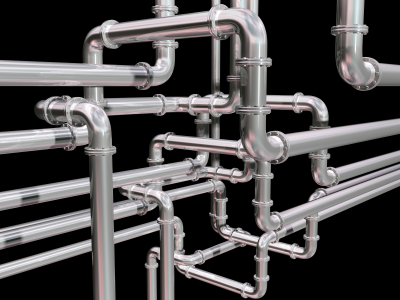 Leaks can occur in both old and brand new heating systems mostly due to the fact that they may have not been completely flushed prior to installation. Either old sludge or corrosive installation debris remains within the radiator leading to metal corrosion which eventually creates very small holes which lead to leakages.
A leaking pipe is never a fun problem to have to deal with. Leaks will pop up in household plumbing systems now and then at the most inconvenient times, but you can stop most of them until you can get a plumbing expert to the house to do pipe repair or replacement.
If a pipe is leaking, rather than risk further damage through performing even the simplest of home repairs, call our professional plumbing service as soon as possible. They have the knowledge and experience to fix your plumbing problem correctly.
There is a simple solution to this and your local Old World Plumbing & Restoration, LLC., Morristown Plumber technician can assist in repairing those leaky pipes in Morristown. Our professionals are trained and experienced in all areas of leak repairs, whether it be a residential or commercial plumbing system. Call us for Morristown Pipe Repair and Installation.
Our Morristown Pipe Repair and Installation Services
Residential Leak Repairs
Commercial Leak Repairs
Plumbing Repairs
Drain Repairs

Bathroom Plumbing
Sewer Pipe Cleaning
Water Heater Repairs
Drain Clearing

Sewer Repairs
Plumbing Leak Repairs
Pipe Repair
Plumbing Installation
We Provide Pipe Repair and Installation Services to the Following Areas:
Morris County - NJ - Butle, NJ | Chatham, NJ | Chester, NJ | Florham Park, NJ | Kinnelon, NJ | Lincoln Park, NJ | Madison, NJ | Mendham, NJ | Morris Plains, NJ | Mount Arlington, NJ | Mountain Lakes, NJ | Netcong, NJ | Rockaway, NJ | Roxbury, NJ | Washington, NJ | Budd Lake, NJ | Cedar Knolls, NJ | Cedar Lake, NJ | Convent Station, NJ | Flanders, NJ | Green Village, NJ | Lake Swannanoa, NJ | Lake Telemark, NJ | Long Valley, NJ | New Vernon, NJ | Port Morris, NJ | Succasunna-Kenvil, NJ | Towaco, NJ | Whippany, NJ | White Meadow Lake, NJ
Why Morristown Should Hire Us For Pipe Repair & Installation
No mater what the job we will provide you with the friendliest service you have ever received. Don't put up with a "grouchy" plumber who seems like you are doing them an injustice by calling them.
We will greet you will a smile and help you any way we can. Service that you can use time and time again is our goal. Call us today to get your plumbing needs taken care of. You can expect highly skilled technicians and polite and professional service from all of our staff. We do quality work and do not believe in cutting corners all while being honest and trustworthy with reasonable rates.
Recent Articles About Pipe Repair & Installation
If you are looking for Morristown Pipe Repair & Installation then please call 973-635-5950 or complete our online request form.