Morristown Professional Basement Remodeling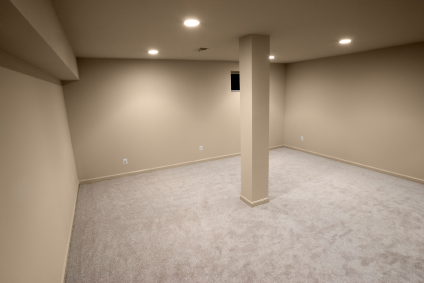 If you have decided to finish or remodel your basement, you are in for a treat.  Remodeling a basement offers almost unlimited opportunity to add living space for your family. It will also increase the value of your home when you sell it.  Finding basement remodeling ideas can be fairly easy using magazines and the internet. 
Before you go too far designing your Morristown basement remodel, there are a few very important things you will need to do. 
Check for radon gas.
Check for dampness, leaks, mold or fungus and correct those problems.
Seal any cracks in the floor and/or the walls.
It is a good idea to apply a sealant to the concrete or other building material used to construct your basement.
The next step is to begin to design your basement remodel.  It can save a lot of time and a number of headaches if you begin your design by sketching out the floor space in your basement.  Next, mark your sketch to show important things you will need to consider in your design
Show where any windows are located
Indicate an exterior door
Indicate the point(s) of access from the main floor
Locate and indicate on your drawing, the location of your fuse box or circuit breaker box, shut-off valves for water, gas, etc. (You will need to design around these items to keep them accessible.)
Indicate the location of any plumbing access pipes
Indicate the location of appliances – furnace, heat pump, water heater, washer and dryer, etc. 
Indicate the location of any support poles or beams
If ducts for heat and air have already been installed, you might want to include a reminder of the location of any ducts or duct work you will need to accommodate when you install a ceiling.
Call Old World Plumbing & Restoration, LLC, we are your Morristown Remodeling Contractor.
Our Morristown Basement Remodeling Services
Basement Remodeling
Basement Design
Cabinet Installation
Flooring

Basement Cabinets
Basement Lighting
Basement Bar
Basement Countertops

Storage Space
Appliance Selection
Cabinet Refacing
Basement Fixtures
We Provide Basement Remodeling Services to the Following Areas:
Morris County - NJ - Butle, NJ | Chatham, NJ | Chester, NJ | Florham Park, NJ | Kinnelon, NJ | Lincoln Park, NJ | Madison, NJ | Mendham, NJ | Morris Plains, NJ | Mount Arlington, NJ | Mountain Lakes, NJ | Netcong, NJ | Rockaway, NJ | Roxbury, NJ | Washington, NJ | Budd Lake, NJ | Cedar Knolls, NJ | Cedar Lake, NJ | Convent Station, NJ | Flanders, NJ | Green Village, NJ | Lake Swannanoa, NJ | Lake Telemark, NJ | Long Valley, NJ | New Vernon, NJ | Port Morris, NJ | Succasunna-Kenvil, NJ | Towaco, NJ | Whippany, NJ | White Meadow Lake, NJ
Why Morristown Should Hire Us For Basement Remodeling
You will know that your basement remodel is being completed by experts in their particular field which enables more inspections to pass the first time as our contractors are up to date on the codes expected, in addition to having less problems now and in the future.
Someone from our company is there at all times keeping an eye out on the work being completed by the professionals.  Additionally, communication is streamlined with all team members on the job.
Recent Articles About Basement Remodeling
If you are looking for Morristown Basement Remodeling then please call 973-635-5950 or complete our online request form.