Hoboken Plumber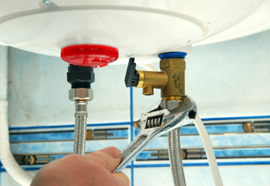 Are you in need of plumbing repairs? Or maybe you would like to install a new tankless water heater, but would like the help of a professional Plumber to ensure no problems arise that could cause damage to your home.
Old World Plumbing & Restoration, LLC. handles almost any plumbing project from small to large in the Brooklyn area. Our expert HOboken plumbers have experience in many different environments, performing plumbing repairs, installations, and troubleshooting. We pride ourselves on quality Installations by highly skilled and experienced plumbing technicians. We don't learn on your home - we fix it right the first time. This is why you will always receive fast, competent service at fair prices. We perform all jobs for which we are qualified by our experience and technical competence while making quality service the trademark of the jobs we perform. So whatever your plumbing needs are, you can count on receiving the best service from the crew at Old World Plumbing & Restoration, LLC.


Old World Plumbing & Restoration, LLC - Hoboken Home Remodeling
Locally owned and operated, Old World Plumbing & Restoration, LLC takes great pride in helping homeowners throughout Hoboken fix and repair any plumbing issue such as: drain lines, drain cleaning, sump pumps, hot water heaters and plumbing repairs. We also have 15 years of remodeling experience specializing in Hoboken kitchen and bathroom remodeling. Our custom building experts will work with you to implement an affordable home solution that meets your needs. We take the time to explain what needs to be done before we recommend your next course of action. Whether you are looking to have something simple like completing a kitchen or something larger like an entire home renovation, you will be best served to have your Hoboken home remodeling project completed by our professional experts. We can handle everything from lighting to kitchen cabinets and countertops.


Hoboken Tankless Water Heaters
Our technicians provide our Hoboken customers with quality and professional water heater services when they need it. We know our customers expect fast quality service, lasting installed equipment and tankless water heaters that they can count on.
Our professional contractors are more than happy to provide you with the answers to the many questions that you might have for your tankless water heater or HVAC system. So whether you're looking for installation, repair or maintenance service for your Hoboken heating or cooling system, count on us for prompt, affordable and honest service.
Morris County Plumber
Plumbing Repairs
Gas Lines
Water Heaters

Tankless Water Heaters
Sump Pumps
Pipe Repair & Installation
Furnace Repairs

Home Renovations

Kitchen Remodeling

Dishwasher

Bathroom Remodeling
Hoboken Plumbing Repairs
Having major plumbing problems in your home? Need to have plumbing repairs done quickly? Don't rely on someone who does not know what they are doing. Call your professional Hoboken plumber at Old World Plumbing & Restoration. We have the experience and expertise to make sure all your plumbing needs are met. We can fix the problem, and relieve the stress fast.
Faucets can wreak all kinds of havoc on your plumbing if they are not functioning correctly. Something small and innocuous as a faucet can quickly become an issue when combined with other plumbing problems such as clogged sewer pipes. Water delivery systems in the home are either for domestic water or wastewater products.  Continuous undetected dripping can eat away plaster walls or ceilings, rot timbers and joists, and destroy painted or wallpapered finishes.  Our plumbers have to tools to locate leaks fast and prevent further damage from occurring. 
Our plumbers are always on time and punctual. So when you need Hoboken plumbing repairs, contact your plumbers at Old World Plumbing & Restoration.
The Services We Provide in Hoboken, NJ
We Proudly Serve
Morris County - Butle, NJ | Chatham, NJ | Chester, NJ | Florham Park, NJ | Kinnelon, NJ | Lincoln Park, NJ | Madison, NJ | Mendham, NJ | Morris Plains, NJ | Mount Arlington, NJ | Mountain Lakes, NJ | Netcong, NJ | Rockaway, NJ | Riverdale, NJ | Victory Gardens, NJ | Wharton, NJ | Boonton, NJ | Dover, NJ | Morristown, NJ | Chester, NJ | Denville, NJ | East Hanover, NJ | Hanover, NJ | Harding, NJ | Jefferson, NJ | Long Hill, NJ | Mendham, NJ | Mine Hill, NJ | Montville, NJ | Mount Olive, NJ | Morris, NJ | Parsippany-Troy Hills, NJ | Pequannock, NJ | Randolph, NJ | Rockaway, NJ | Roxbury, NJ | Washington, NJ | Budd Lake, NJ | Cedar Knolls, NJ | Cedar Lake, NJ | Convent Station, NJ | Flanders, NJ | Green Village, NJ | Lake Swannanoa, NJ | Lake Telemark, NJ | Long Valley, NJ | New Vernon, NJ | Port Morris, NJ | Succasunna-Kenvil, NJ | Towaco, NJ | Whippany, NJ | White Meadow Lake, NJ

Recent Articles
Plumbing Concerns Best Left In The Hands Of The Morristown Pros - Do not even attempt to tinker around with your home's plumbing and pipe work unless you want to run the risk of having water running all over the place soaking up your floors, furniture, and other fixtures.  There are professional plumbers who have the expertise and tools for every possible problem in the water outlets, ... [Read more]
Morristown Expert Plumber Services: More Than Just Plugging Leaks - There is more to what a professional plumber does than plugging leaks.  Every responsible homeowner would know that a house's plumbing system is composed of interrelated and interconnected components that all have to be properly installed, running efficiently, and maintained regularly.  Unless the homeowner is himself a plumbing expert ... [Read more]
If you are looking for a Hoboken plumber then please call 973-635-5950 or complete our online request form.