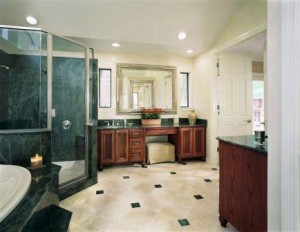 If you're planning to enhance the look and functionality of your Mountain Lakes bathroom and looking at bringing in bathroom cabinets, you may want to opt for companies offering top-notch products and services.
A modern Mountain Lakes bathroom remodel can look elegant and all spruced up with the right furnishings. Now if the thought of improving your bathroom's look makes you worry in terms of costs that the remodel may entail, fret not. Whether you plan to bring in a new vanity cabinet, or have a floor standing or wall-mounted cabinetry to carry towels and other bath essentials, you need not break the bank. There are professionals who can install just the cabinet you want at a fair price.
Get recommendations from your acquaintances, family members, work colleagues or interior-designer-friends on good providers/installers for your bathroom remodeling. If there are other cabinets in other parts of your home, like the kitchen, that you'd like to refinish, you can find a refinishing specialist through a quick web browse.
That done, you can now choose among the many beautiful types and materials of bathroom cabinets suited for your Mountain Lakes indoor space. Enlisting the services of a professional installation expert can help guarantee a quality product and give you warranty as well.
Among the highly favored types of cabinets for bathrooms in contemporary homes are lovely wooden options like oak. An oiled oak cabinet with a marble top can be a lovely and functional option. It can withstand splashes. Other hardwood options are maple, hickory, and cherry. An alternative may be pine. Finished wood adds warmth or a rustic appeal. Painted wooden cabinets, on the other hand, can complement the bathroom's color motif.
Wooden cabinets can be beautiful to look at and are sturdy, but consider also that such material may warp particularly when constantly exposed to steam and heat. Wooden bathroom cabinetry may be custom-made to suit homeowners' exact size, color, style, and material specifications.
An alternative that's gaining ground as well are PVC cabinets, which can be terrific decor for bathrooms that use a minimalist design. Wall-mounted PVC cabinetry can help the homeowner make the most of available space.
Well-designed and creatively built bathroom cabinetry will not only free up space & reduce clutter but also transform your Mountain Lakes bathroom area from dreary to elegant. The best way to get a good package is to consult a designer, get an experienced Mountain Lakes contractor, and transact with a retailer specializing in beautiful bathroom cabinets.
If you are looking for a Morristown plumber then please call 973-635-5950 or complete our online request form.